Campus Assist
Design Exercise
Spring 2020
Campus Assist is an app I designed to help students report campus facilities that need maintenance, and helps facilities managers prioritize and act on these reports.
NOTE: This project was completed as part of a design challenge during the hiring process of a tech company.
Here's the clickthrough prototype.

Tools
Sketches, Figma
Timeframe
~18 hours
---
Current State of Affairs

The students at my school — Simon Fraser University (SFU) — have two ways of reporting / requesting facilities services: phone and online form. The online form requires a SFU ID, and students can make one of two types of requests:
maintenance
or
custodial
.
Campus Facilities (CF) recommends that urgent and emergency reports be called in over the phone, and routine reports be reporting via the online form. The definitions can be
found on a PDF online
and are accessible without an SFU ID.
Online request form
accessible with an SFU ID
---
(How) Are People Using This?
Drawing from anecdotal evidence, students will generally avoid dealing with facilities-related issues: if a toilet in the washroom won't stop flushing, just use a different one. Unless it restricts their immediate access to something they'd like to use: their student ID card not working on a door to a lab they need to enter.

In the latter instance, students don't know who exactly to contact. In most such cases, students will run down to the security desk. One such case took CF 3 months to fix.
All that being said, with the system currently in place, CF is hoping for this (left) sort of engagement from students specifically.

The report can either be via phone or online form, but the flow remains: a student can report to CF and depending on the urgency of the report, CF acts on the report in the appropriate timeframe.

If the report involves something that the student needs an update on, they're outta luck. Try using your ID on the door again in about 3 months.
---
A Step in the Right Direction
Apart from improvements to user interface and interaction design, the experience for the students who would like to report an issue can involve letting other students know about said issue.

Doing this can eliminate redundant reports to CF about the same issue, as well as giving students the chance to change plans accordingly (e.g. if a student plans to work in a computer lab on a Saturday, and they see a report that it has no power, they might want to use a computer in the library instead).


A new system could also enable CF to provide updates on progress to, not only students who have reported the issue, but to all students using the system. Students may choose to follow issues reported by others to get updates on specific issues.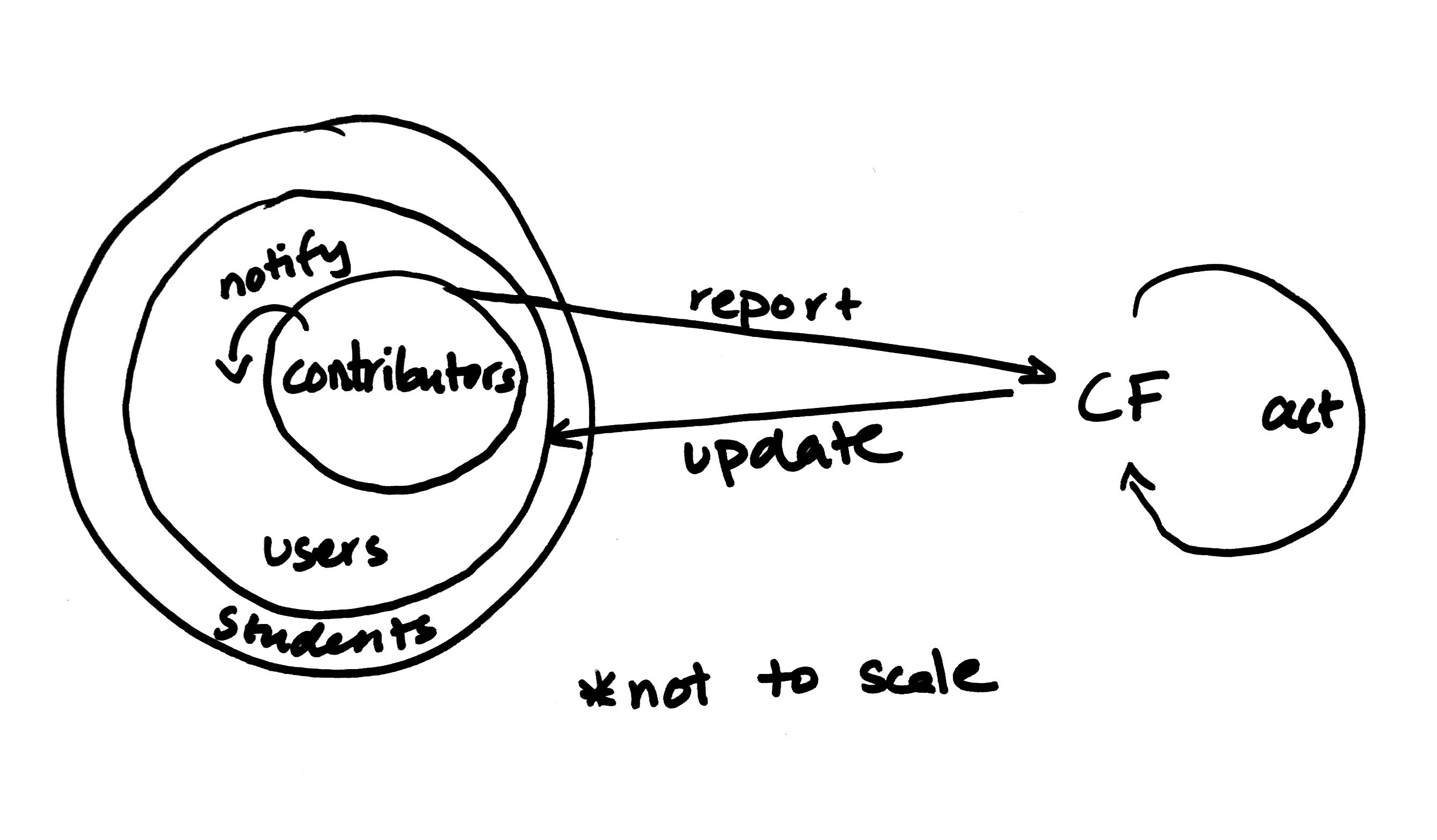 The diagram to the left recognizes that an app / system such as this is difficult to get target audience buy-in for. Therefore, I believe the best strategy would be to "build the base" of contributors that will actively report issues on campus.

This would involve incentivizing them in a compelling way. If the app / system has high-quality reports — reports that are accurate and take time-sensitivity into account — then it will attract more users, even if they only seek to get information & updates, and not to contribute.
---
Take the Next Sharp Left Turn
Waze is a pretty cool community-based navigation app. Users can report things like traffic, police, or hazards while on the road. Other users can confirm the report, or update whether or not it's still presenting an issue to drivers.
As such, I think Waze provides a good framework for our purposes: the interaction between the two types of users, and an overview to help you plan your way through the day.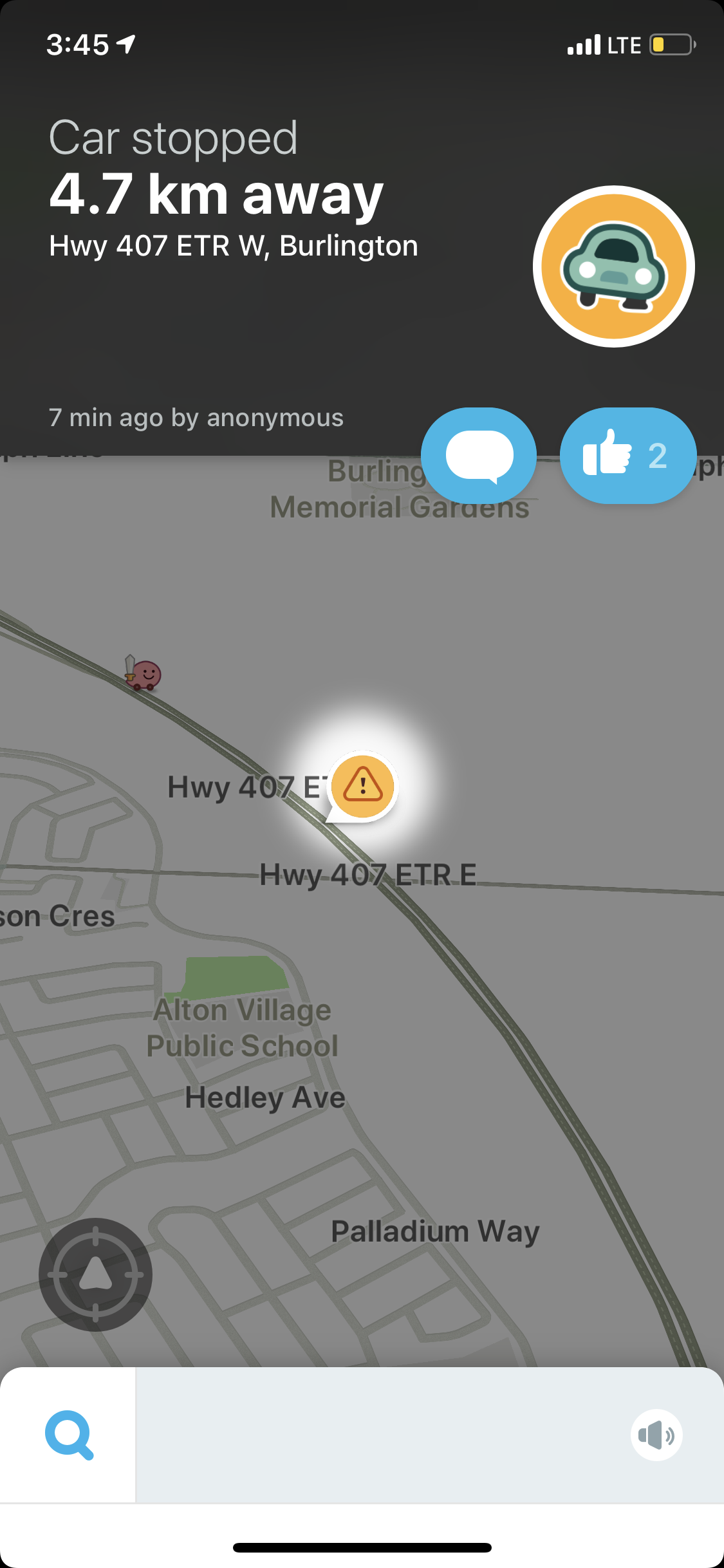 From CF's perspective, the idea of a location-based app makes sense: "where is the issue?" is the third question CF asks in the form, after "what is the issue?" and "how urgent is it?" CF can then also remove the issue from the map once work on it has been completed.
From the students' perspective, it makes sense because they get a heads-up ahead of time that a CF-related issue might impede on their plan for the day, so taking a "detour" would be advised. That might involve going to a different campus and saving a commute. Big value.
---
The Experience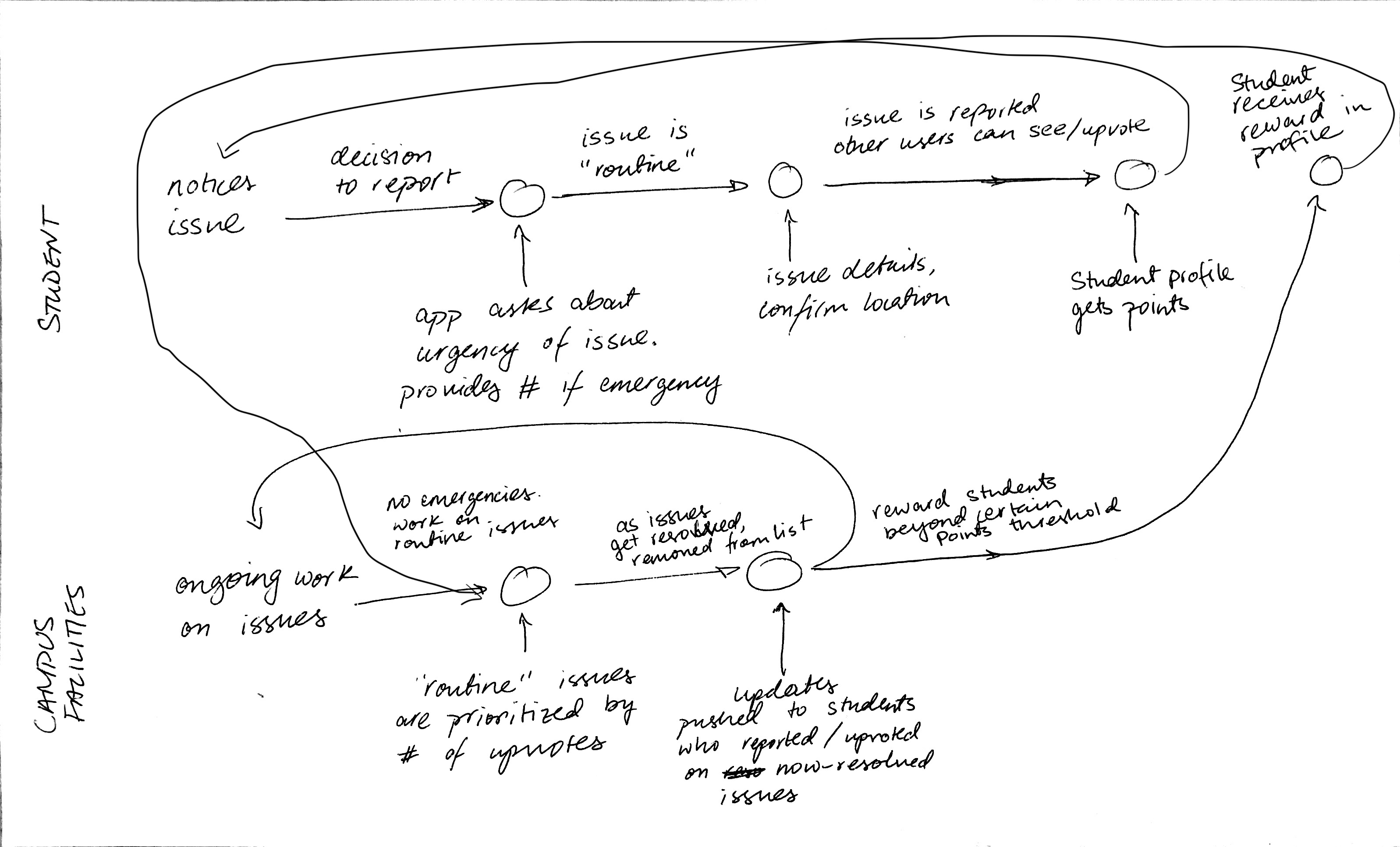 The app — we'll call it Campus Assist (CA) — has two major user types: students and the CF team. The CF team has two member types: a manager who monitors and assigns tasks & employees who act on reports. The experience flow of students can be split further into "report" and "upvote."
The primary interface for students will be on mobile, and for CF it will be on a web app that is accessible on desktop and tablet.

Aside: I'm not sure how much budget a school's campus facilities (CF) can set aside for such a thing, but even a $25 gift card to a local restaurant could conceivably be motivation enough to get students involved in voluntary activities around campus.

Student Experience
Students are met with a map-based home screen right off the bat — Google Maps has floor-by-floor data on most SFU campus buildings. Their current location will be assumed to be the location at which they notice the issue. Once they have selected the type of issue they are reporting, they can confirm or change the location of the issue, in the vein of an Uber or a Lyft.
They are then asked to describe the issue in short, indicate the day & time at which the issue was noticed, and optionally attach an image. Day & time fields are populated with current day & time as default. Once the issue is filed, they are taken back to the home screen, this time with a confirmation toast. They can view the issue, and if it's been resolved, they can mark it as such.
CF Experience
The CF manager can monitor activity from a web-based dashboard on either a desktop or a tablet. They can view all issues here: open, in-progress, and archived. The list of issues can be sorted by type, time, or number of upvotes from students. Once they click on an item on the list, they get a detailed view of the issue.

From the detail view, they can mark it resolved themselves, manage the CF employee it's been assigned to and see where it lies on the employee's own prioritized list.
The CF employee can manage tasks assigned to them on a mobile-first web app. They have the ability to sort the list just like the manager, and can mark an issue as resolved when work on it is complete.

Whenever either member-type of the CF team marks the issue as resolved, Campus Assist pushes updates to the students who reported / upvoted that particular issue, thanks them, and awards them points.
---
This is Campus Assist
The visual design of the Campus Assist is lightweight, simple, and school-colors-forward. The user can see their progress towards the reward from CF with a view that activates with the nav item on the left, and change their profile settings or log out of the app with the one on the right.
The focus here however is the flow I walked through with the sketches above: reporting an issue.
Additionally, at each step of the reporting process, there is a link to launch the phone app with the facilities emergency number.
Here's a clickthrough prototype.
Students upvoting an existing issue have a very simple interaction. If, as they are going about their day, a facilities-related issue is encountered, they can tap it and vote to bump its visibility on Campus Assist and let CF know that more than one student would like this issue addressed.

The circles on the map represent a reported issue, and the size corresponds to the number of upvotes it has received.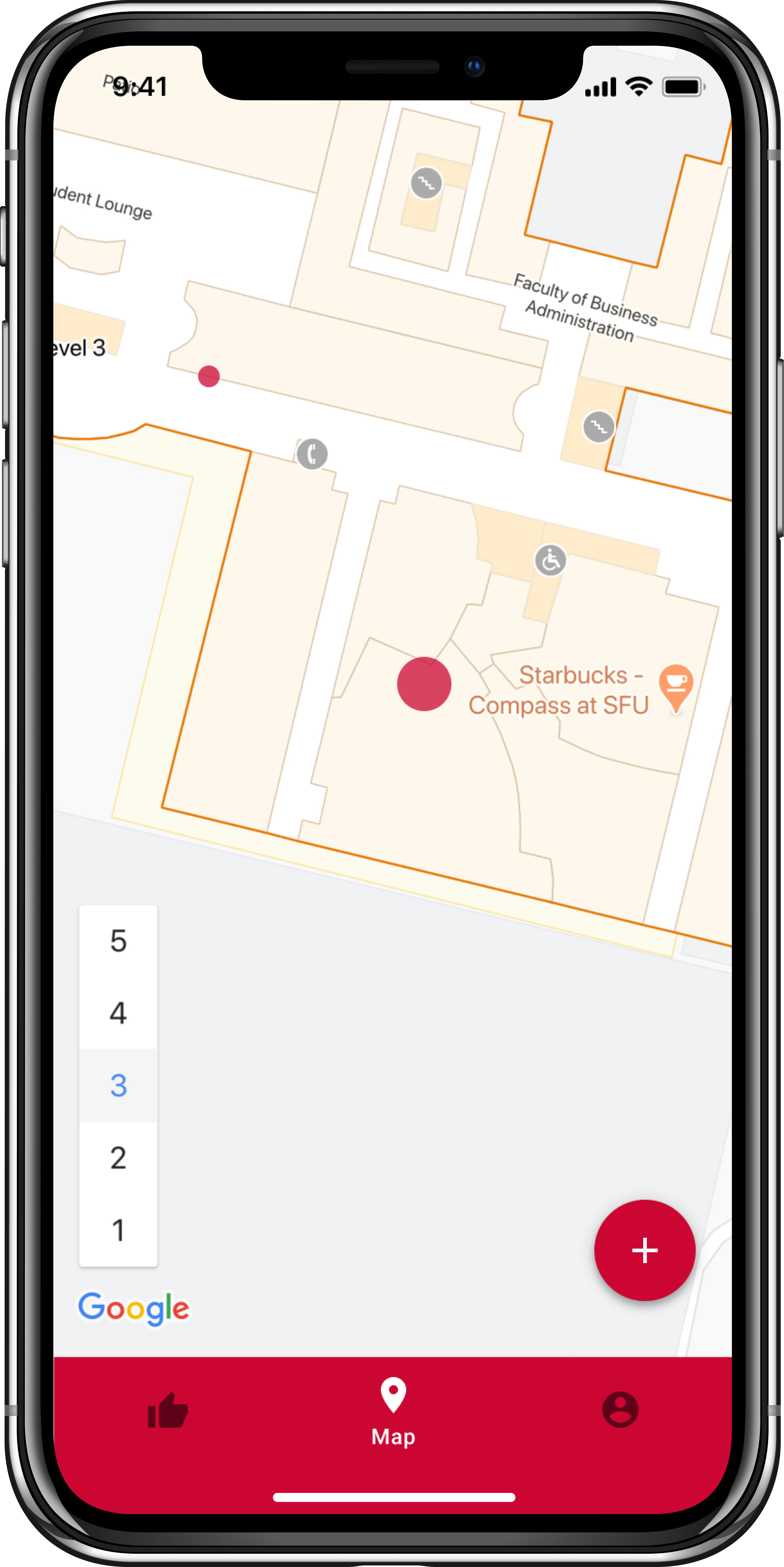 The CF Managers can monitor incoming reports on Campus Assist and manage how they are assigned. The UI is meant to be lightweight enough to be web-based, and also well-suited to tablets or desktops.

When it comes to data privacy, Campus Assist does not need to track students' location activity; they can allow the app to use location only when it's open. Students would be required to log-in with their school ID, which is what is required to submit the online form as it currently exists.

---
What's next for Campus Assist?
Flying Many Colors

Any school that has adequate data available on Google Maps can make use of Campus Assist. Pictured on the left are SFU (above) and Ryerson University in Toronto, ON (below). Material Theming affords cool color variations of the app, and also delivers an experience for students that is consistent with their experience at their school.
Two-way Street

As it stands, the best way to get updates on whether or not there's a snow day, or a building is closed, is either monitoring SFU's many Twitter accounts, or tuning into AM radio. Campus Assist can easily provide a hub for announcements and closures related to facilities, and build on its case as an app that deserves a home on the students' phones.
Tracking What Matters

To make schools more accessible, Campus Assist can allow favoriting certain campus elements that a user may want to track closures / issues for. For example, a student using a wheelchair may favorite the area around elevators and ramps on the way to their classes to ensure that they give themselves enough time to plan a detour if required.
---
A Moment to Reflect
More Research

This is a problem I would love to tackle with more depth. Running on assumptions is extremely unlike me, so I would like to have conducted more research: interviews and ethnographies with campus facilities managers, employees, students from different faculties with diverse needs. Additional research into existing services that can tie into CA and strengthen the overall rationale would also be in the cards if I were to continue.
Hi-Fi Fever

In hindsight, I would've managed my time more effectively and spent more of it on the high-fidelity mockups. My current job at IBM is mostly experience design & strategy, so I enjoyed empathizing with each user type and try to look at things from their perspective, but I want to make sure I brush up on my UI skills continuing the project.

I had fun, and that's the most important thing
There's no denying that this is the type of problem I am interested in solving, despite not being the most glamorous. I did my best here to communicate that interest, leading to some interesting results (I believe). But a prototype is an artefact meant to stimulate conversation.
So let's talk!
---